Enterprise
Nvidia in 2018: faster and faster, pricier and dicier
2018 started off with all the makings of a hot year for Nvidia. Everyone was still talking about cryptocurrency, and Nvidia's graphics cards were caught up in the middle of the mining craze. The prices of existing Nvidia cards like the GeForce GTX 1080 Ti were nowhere close to as low as they should have been, and the company's flagship cards were long overdue for an update. Thankfully, we just got that with three brand newNvidia TuringGPUs plus a whole new ray tracing revolution – at least in one game anyway.
We're going to take an in-depth look at how the year actually played out and it's been a challenging one for big green, to say the least. Nvidia has arguably ended the year in a tougher spot than when it started. Although the company has made some of its biggest leaps forward, they've also came with heavy caveats.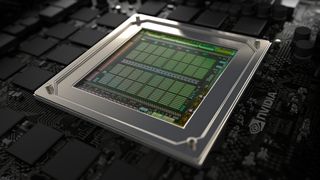 Nvidia at the start of 2018:
Nvidia kicked off the new year at CES 2018 talking about its big moves with powerful cards that would go into data centers and power AI, like that used in self-driving cars.
It also hyped up the Max-Q versions of its 10-Series graphics cards, which offer desktop-like performance in thin-and-light laptops.
But, what the company wasn't doing at that time was announcing the replacements to the 10-Series. It showed off the new Titan V that was hardly a gaming-targeted, consumer-facing product, but little did we know that its Tensor cores would make their way into its new line of 20-series GeForce GPUs.
Still, in spite of nothing for gamers to get too excited about early in 2018, Nvidia was doing well.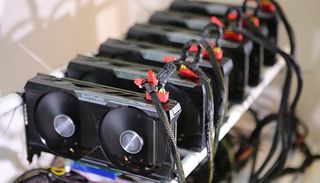 Gamers' pains, Nvidia's gains:
One thing that was driving Nvidia at the beginning of 2018 was cryptocurrency. Popular cryptocurrencies like Bitcoin were booming, and miners needed powerful graphics cards to mine many of them. Nvidia's were the most powerful around and the demand was huge.
Nvidia recordedrecord revenue in early 2018with a huge bump in graphics card sales. The company didn't attribute the surge solely to cryptocurrency, rather crediting "new games, holiday-season demand, iCafe upgrades, esports and cryptocurrency mining," in an earnings call.
As good as the sales were for Nvidia, gamers were hurting for much of the first half of 2018. The high demand formining graphics cardsdrove prices up, making it hard for gamers looking to upgrade or build new PCs without spending a fortune.
Nvidia made some efforts to ensure the core audience of gamers could still get their hands on GeForce graphics cards. One of the schemes Nvidia used to prevent miners from gobbling up all the GPU stock was encouraging retailers toprevent bulk buying. Some shops even went further bybundling graphics cardswith monito
Be the first to write a comment.